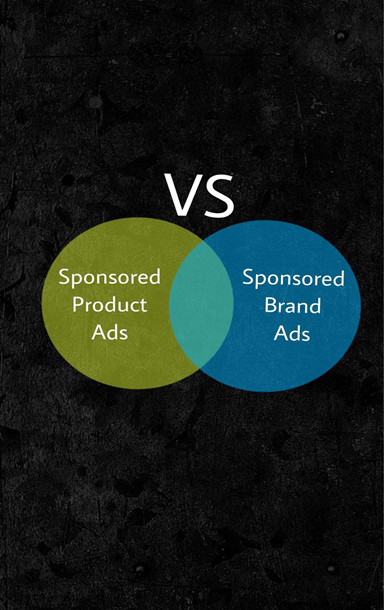 Amazon advertising helps you increase your brand awareness and visibility. More than 60% of the brands advertise on Amazon to boost up their brand notoriety. Amazon has consistently been a forward thriving online platform. Advertising on Amazon is one of the strategic ways of driving traffic to your website.
There are many advantages of advertising on Amazon-like
Improve awareness of your brand
Reduction of the sales cycle
Making it cost-effective on a CPC basis
A better understanding from the customers perspective
Driving traffic to your website in a more efficient method
Product perceptibility
Easy to reach the buyers
You get paid irrespective of the purchase of the product.
Have track of your sales and optimize accordingly
Global reach
Feasible for everyone to view and access
Higher Conversion Rates
Converting visitors into customers
Following few optimization techniques can help you improve your sales and bag more profits. There are different types of advertisements on Amazon. Two very important methods out of all are:
Amazon Sponsored Brand Ads
Let us discuss them in detail and compare each of them
WHAT ARE AMAZON-SPONSORED PRODUCT ADS?

You must be well aware of the cost-per-click concept to understand the sponsored product ads. SPA is the abbreviation of the Sponsored Product Ads.
They are the cost-per-click ads that promote the product listing of each individual product. Amazon Sponsored Product Ads are one of the most constructive ways to help you increase your conversion rate approximately equal to ten percent. These advertisements also help your product look more substantial and distinguishable. By clicking on these ads, the customer is directed straight to the official Amazon website. In general, SPA's are hard to ignore and get your eyes off because they appear as soon as the page gets refreshed. These advertisements are specifically labeled as 'Sponsored.'
Where do Sponsored Products Ads appear?
SPAs on Amazon mostly appear at the top of the search results page. Sometimes at the bottom, at the right, and even on the product detail page. These ads are displayed everywhere in so many places as they are remarkably beneficial to the sellers. SPAs can help you reach your target audience by providing them with the products they needed.
In this way, it is no way possible to miss out on these advertisements. These ads do not just appear on Amazon but also off Amazon. They also appear on any other third-party websites and apps. SPAs will automatically stop once the product goes out of stock or when the deal is over. But they appear for at least a day and get disappeared.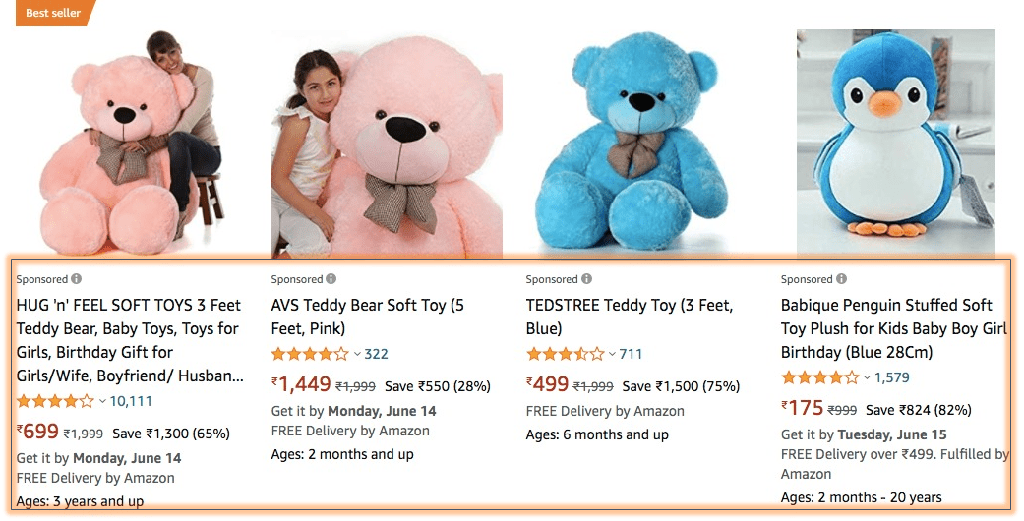 In the above image, you can clearly see how Sponsored Product Ads are displayed.
What are the benefits of Amazon Sponsored Product Ads? Is it worth it?
Amazon Sponsored Product Ads are not just a perfect technique to promote your products but also help you improve your overall performance.
Sellers usually manage their own ad campaigns like these.
Amazon Sponsored Products ads have the ability to improve your overall rankings.
They help our business accomplish a range of goals.
Support by spreading enough awareness
Add to a better return on investment(ROI)
It can be helpful to distribute traffic to the website on several servers to optimize response times.
You can control costs while accurately measuring their advertising success by the other hand.
To promote seasonal items.
Shown across Multiple devices
Sponsored Products will only appear if you own the Buy Box. Ads like Sponsored Product Ads on Amazon come under the category of competitive marketing. These ads appear on screen only if the seller owns the buy box, located usually at the end of the product detail page. Buy box section also displays the highly-ranked and reviewed products on its timeline. Buy box helps you make few more sales than how much can any other seller make.
How can you set up an Amazon Sponsored Products Ad Campaign?
We will now briefly discuss how to set up your ad campaign.
It is easy to list your products and run a campaign on Amazon. All that you have to do is to follow few simple steps. Make sure you are confident enough with all the work on the product. Follow the entire procedure and ensure everything has been up to date.
Step1: Login to your Amazon Seller Central account using your credentials.
Step2: Go to Campaign Manager on Amazon Seller Central and ensure you are on Sponsored Products tab and not any other Ads tab.
Step3: Click on the 'create campaign' button.
Step4: You can now choose the options accordingly and set the details of your campaign like
Name of the campaign
Daily Budget
Duration including the start date and the end date
Targeting type
Target ACoS
By filling out the above fields, you can now proceed to run your own ad campaign.
Do's and Don'ts:
Use different types of effective strategies like using video ads or an attractive yet genuine product image ad etc.
Do not bid on too expensive and irrelevant keywords. They take up most of the budget and end up ruining your PPC campaign.
Sponsored Product Ads are one of the simplest types of ad campaigns that amazon offers. International E-Traders say that they have increased their sales by 301 percent by adapting to these advertisements.
Now, let us dig deeper into Amazon Sponsored Brand Ads in the same way and see what they are and how they are helpful.
WHAT ARE AMAZON-SPONSORED BRAND ADS?

Sponsored Brand Ads help you drive brand awareness and traffic directly to your Amazon landing page. These kinds of ads are helpful to promote your products as well as brands. Amazon Headline Search Ads can be visible at the top of the customer search results page. In this advertisement, you can group multiple products and improve the perceptibility of the brand's name. Just typing the brand's name will help you find out all the products manufactured by that particular brand. Focus on the keywords and optimization of the headline language is very important. Sponsored Brand ads were previously known as Headline Search Ads. This included the brand logo, products, and also the tagline of the advertisement. Amazon Sponsored Brand ads have been recognized as one of the most effective ways of advertising and marketing. Statistics say that as of today, more than 34% of third-party Amazon sellers are using this method.
Where do Sponsored Brand Ads appear?
Once clicked on these ads, the page directs you to the Amazon storefront or the product displaying the landing page. They also appear
above the search results
Below the search results
To the left or right of search results.
At times, these ads can also appear on any other third-party websites.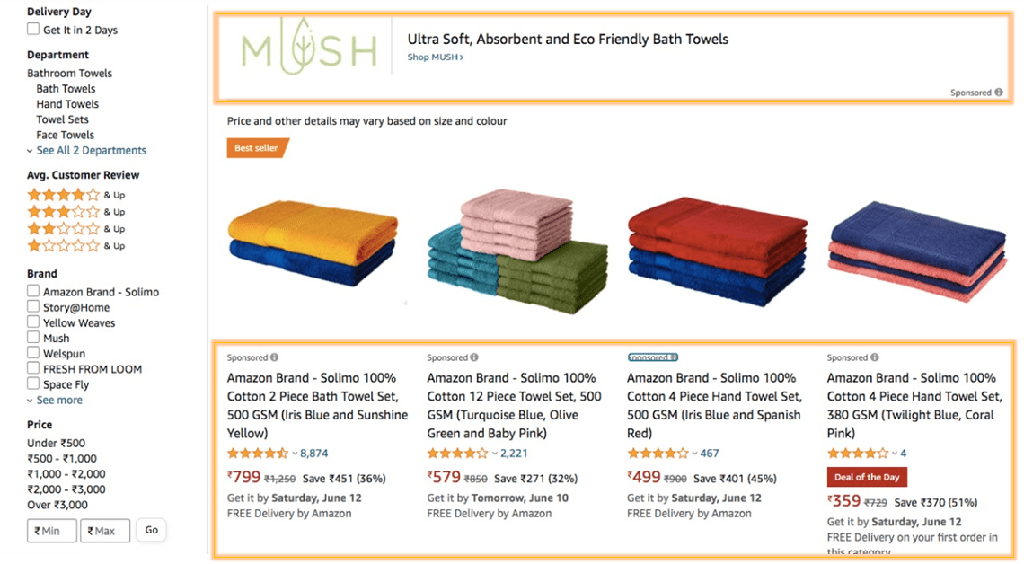 From the above image, you can clearly see how Sponsored Brand ads are displayed.
What are the benefits that Sponsored Brand Ads provide us?
They provide you with an opportunity of creating a custom branded shopping experience for your online shopping customers.
Similar to Sponsored Product ads, brand ads also fall under the same category of Pay-Per-Click(PPC)
You can group multiple products at a time and display them.
Offer you a new reporting tool called the New-to-Brand metric which basically informs you whenever a sale comes up from an already-existing customer or a new one.
Your brand name and logo appear on top of the search results page by making it hard to ignore.
More shoppers click on the links displayed rather than ignoring them.
Sponsored Brand ads can also contain video clips making them look even more attractive.
The best thing about your Sponsored Brand ad is that you only have to pay when a potential customer clicks on your ad.
It is in your hands to decide how much you want to spend on the ad campaign and the duration you want the campaign to run.
You do not have to stress the keyword relevancy in this kind of advertising campaign because the brand chooses to attract all the attention paid.
In all the above ways, Amazon Sponsored Brands ads can help you achieve your targets. You do not need to spend extravagantly on these types of ad campaigns. Instead, your creative control over your campaign ads will help you yield astounding gains. Nevertheless, these ads carry higher Cost-Per-Click(CPC) than Sponsored Product Ads. It is a well-known fact that as rates increase, the value of the sponsored ads keep rising further. Though the brands pay more for their Sponsored brand ads campaigning, it really is worth their trade-off value. Especially during seasonal sales, the cost-per-click(CPC) serves to be way higher than the non-seasonal times.
How do the Sponsored Brands Ads work?
Sponsored Brands Ads work just like the Sponsored Products as they fall under the same category of Pay-Per-Click(PPC). As a seller, you have the total rights and control of the daily budget for almost each of your campaigns. To achieve and earn impressions on your potential customers, you will have to bid against distinct retailers on various keywords. You also have three types of Ad formats to choose from for Sponsored Brands Ads. They are:
Product Collection
Store Spotlight
Video
Product Collection:
The Product collection allows you to display up to three products of your brand directly on the landing page. It is one of the most prominent options available. You can gain more sponsored ad visibility through this. You can also add any range or level of products to the same ad. In this way, it might increase the chance of someone clicking through your ad.
Store Spotlight:
This ad format is available only if you create your own Amazon storefront. You can drive massive traffic towards your E-commerce website by using the store spotlight. The user can only see your brand and the product. All the information, reviews, and details are not displayed.
Video:
Sponsored video ads are relatively new ad formats that are incorporated into the search results page. The video ads are what make your product's ad stand out from everything else on the same page and take you a step ahead in the competition.
How to set up your Sponsored Brand Ads Campaign?
Step1: Log on to your Amazon Seller Central account using your credentials or visit advertising.amazon.com.
Step2: Go to 'Campaign manager' and select 'Create campaign'
Step3: Under 'create campaign', click on Sponsored Brands.
Step4: You can now create a campaign under sponsored brand campaign settings.
Step5: Allot your campaign a suitable name
Step6: Enter the start and end dates.
Step6: Choose an option between a daily budget or a lifetime budget.
Step7: Enter all the details accordingly and submit your Sponsored Brands Ads for review.
It usually might take 24 to 72 hours to get approval for your Ad.
Do's and Don'ts:
Practice with different and various illustrations, images, and headlines.
Targetting around 30 to 40 keywords when it comes to Sponsored Brand Ads is recommended to reach a wide range of shoppers within your target audience.
Deliver catchphrases properly and give ample time to check their execution. Take the poor-performing watchwords off your list to decrease promoting costs by not investing in unimportant Keywords.
Summing up
Advertising is the key to increase your sales and acquire more exposure to your brand. Experiment with all types of ads and choose the right one suitable for your selling product.