Changing bids, creating campaigns, and finding new keywords is no fun, which is why Amazon PPC softwares have seen tremendous growth in popularity over the last few years.
A seller armed with the right PPC software can shift their focus from Amazon ads management to other things like actually launching new products and growing their business.
However, this explosion in popularity means that there are now too many PPC automation tools to pick from. And as a seller, this can make finding the right one difficult.
That's why we created a list of the 17 best Amazon PPC softwares with all the info you'd need about pricing, reviews and features to pick the right one for you.
1. AiHello
The first tool on our list of best Amazon advertising softwares is, AiHello, a complete A-Z advertising solution.
AiHello is one of the most advanced software tools when it comes to bid adjustments, campaign creation, and keyword research. What makes AiHello special is its ability to not only automate your old campaigns and get them to their target ACoS using the correct bids but also to create 100s of campaigns for you in minutes.
Features
Efficient Campaign Creator
Creating campaigns with AiHello could not be easier, all you have to provide is your ASINs, your budget, and the type of campaigns you want to set up. From there AiHello will start setting up dozens of auto, manual, keyword targeting, product targeting and category targeting campaigns to expand your reach and grow your sales rapidly.
Real AI Bid Automation
While many PPC software companies claim to use AI to change your bids, AiHello is one of the few who actually do. You also get to track your bid changes through the 'Autopilot Logs' and discover the reasoning behind each adjustment.
Customizable Day Parting
Automatically figure out your peak and off-peak hours using AI and have your bids adjusted up and down to make the most out of your ad spend.
Keyword Management
Using its own keyword management system, AiHello is able to refine your targeting and spend more on the keywords that drive outlier results. It does this by automatically harvesting converting search terms from auto, phrase, and broad campaigns and turning them into keywords while also negating wasteful search terms and adding AI-identified keywords into your campaigns.
Dedicated Account Manager
With an AiHello subscription, you get your very own PPC expert who's there to give you advice, help with strategy, and work through problems with you. You can also speak to them for up to 8 hours a month on Zoom and get unlimited support over email.
Pricing
AiHello's pricing is straightforward and tier based.
For sellers between $0-$7k in spend its $175/month
For sellers between $7k-$20k its $400/month
For sellers above $20k its $450 + 1% of ad spend
And for agencies, it's an $800/month flat fee for unlimited accounts
Reviews
"For just about one year I have been searching and testing several tools to keep PPC costs and performance under control. AiHello AutoPilot does what it says! After just a month of testing on multiple campaigns, I have been able to cut ACoS to less than half of what it has been for months, well below my expectations, and regain control over my PPC spending."
"AiHello's major strength, among others, is in the AutoPilot uncanny ability to micro-manage bids to the intraday level where it can boost bids on peak hours and decrease them on off-peak hours. The AutoPilot is very reliable and based on a robust algorithm, there are just a few settings that the user needs to adjust to let AiHello work the magic. It's truly a "set and forget" piece of software."
Who should use AiHello as their Amazon PPC Software?
AiHello's unique features make it attractive to many sellers, but the people who benefit the most from AiHello are the ones looking for precise and scaleable campaign creation to expand their market share and sales.
Another major benefit of AiHello is the Amazon PPC experts they provide, which makes it a great option for sellers who need guidance on strategies that bring results.
2. Perpetua
Second up is Perpetua. Perpetua is a popular PPC software provider that merged with Sellics, another software company, not too long ago. They're known for their clean UX, their rules-free automation, and their impressive customer support – which is why they're always a good option to consider.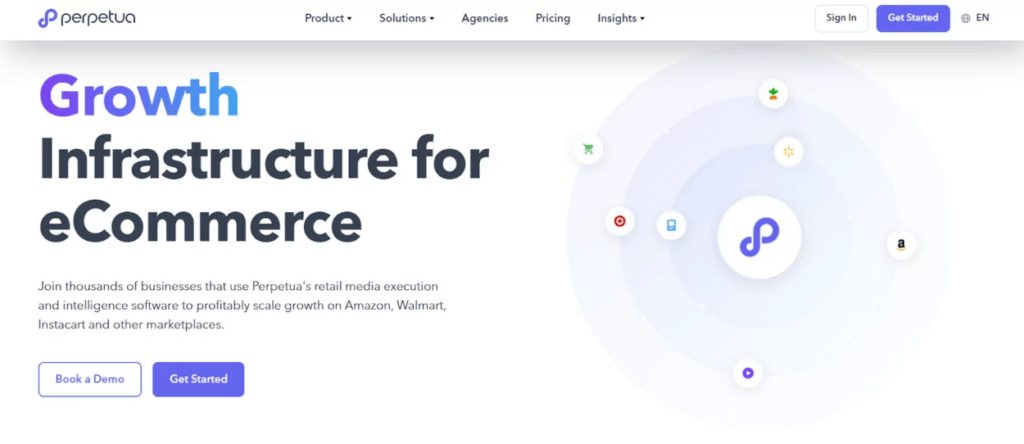 Features
Campaign Creator – One downside of Perpetua is that it can't automate your current campaigns, it can only automate the new ones they make for you. The way it works is that Perpetua shuts down your campaigns and uses the keywords from them to create new ones then automates those instead.
Hands-Off Automation – Perpetua is completely hands-off, which may or may not be a good thing. On the positive side, this means practically 0 set-up time and less work in the long run. On the negative side, this means 0 control over your account, no customizability, and no way to interfere with how things are done if you're not satisfied with the performance.
Rank Tracking – Using the help of a 3rd party service provider, Perpetua is able to track your ASIN's organic rank on your 25 most important search terms. This is very useful but comes at an additional fee of $50/month.
Video and Image Builder– Using on-platform image and video creators, Perpetua users can make custom creatives for their sponsored brand and display campaigns for an additional fee of $25 each.
Pricing
Perpetua's pricing depends on how much ad spend they manage for you. It starts off as a flat fee of $250/month and keeps increasing as they automate more campaigns for you.
$250/month until $5k in spend
$550/month until $10k in spend
$550/month + a percentage of spend until $200k in spend
Reviews
"Intuitive UI with all the functionality required to simplify and speed up mundane tasks and larger scale campaign build-outs. Sales history and visibilty on a wide variety of metrics including TACOS/Organic sales. Simple onboarding process for new starters to learn the basics ad get to grips with the platform. In general a great tool for beginners and pros alike, customer service overall good when issues arise."
"Really amazing software that's easy to use and understand. Time-saving automated campaign management is a real thing! Plus so many other amazing features – your 100 best-performing keyword management, branded and unbranded campaign data. Highly recommend!"
Who should use Perpetua as their Amazon PPC Software?
The ideal Perpetua user is someone who'd prefer to be completely hands-off with their advertising. They don't want to use their own campaigns, add their own rules/settings or really dig deep into what's going on, they just want to spend less time on PPC.
3. Teikametrics
Teikametrics, the company that developed the popular Flywheel 2.0 platform, has been around since 2015, helping Amazon and Walmart sellers automate their bids and campaigns using AI. They've become popular for the market intelligence tools that they offer among other things.
Features
Simple Campaign Creator – Using keywords from your current campaigns and search term reports, Teikametrics is able to set up new campaigns for you automatically to grow your sales. While this isn't as effective as software that's able to do its own keyword research, it can still do a good enough job for most sellers.
Auto Keyword Harvesting and Negation – Teikametrics will analyze your search term reports and use them to harvest promising search terms from auto to manual and negate wasteful ones.
ACoS Targets and Campaign Budgets – Unlike other softwares, Teikametrics will automatically set your ACoS targets and campaign budgets for you. This takes the guessing out of the setup process and makes getting good results easier.
Day Parting – Some days and some hours perform better than others and Teikametrics can help you take advantage of that. With Teikametrics, bids will automatically be increased during high-performance periods and decreased when your potential returns are low.
Intelligent Bidding – There's more to bidding than just ACoS and targets. There are also other things that Teikametrics considers, like product price, inventory levels, and seasonality to make sure that all your bids are as optimal as they can be.
Pricing
Teikametrics has 3 pricing tiers:
For sellers spending up to $5K/month its $199
For sellers spending $5K – $10K/month its $499/month
For sellers spending above $10K/month its 499 + 3%
Reviews
"Working with Teikametrics has been great and agile! Not only do they understand our key objectives but they are super helpful in providing insights to ultimately achieving our goals. They help us pivot quickly when needed and provide their expertise in doing so."
"It's been great working with Teika over the past few months. We hope to eventually get all of our advertising partners loaded into the system, but the people are really what make it. Matt is a wizard behind the scenes adjusting bids and targets based off our weekly conversations."
Who should use Teikametrics as their PPC software?
Teikametrics is a good choice for sellers who are interested in AI rather than rule-based automation. They also provide a free trial for users and don't require any long-term commitments so it's good for sellers looking to test the software first before really using it.
4. BidX
BidX is a rule-based PPC automation company based out of Germany. They're popular among European sellers because of their large customizable dashboard, their user-friendly features, and their comprehensive rule sets. BidX also offers managed service plans for sellers who need more support with their advertising.
Features
Suggested Keywords– Using Amazon's data, BidX is able to provide on-platform keyword suggestions for sellers to add to their new or existing campaigns.
Multi-Campaign Creator – Amazon's campaign creator can be difficult to use, especially if you're creating more than one campaign at a time. BidX's campaign creator is the solution for that, allowing you to launch multiple campaigns at once, faster than you could on Amazon.
Customizable Analytics – One of BidX's standout features is its customizable dashboard. Using it, you can create your own graphs to track whatever metrics you want and keep all your data in one place.
Harvesting and Negation – Similar to Teikametrics, BidX is able to identify potential keywords to use from your search term reports and potential negations to add to your campaigns to refine your targeting.
Rule-Based Automation – Set up your own personalized "If X then Y" rules to automate most functions of your ad account. This feature allows you to save time and get better results in the long run, but you might have to spend some time, in the beginning, testing different rules to learn how they work.
Pricing
Bidx offers four ad spend-based tiers:
$199 up to $5k monthly spend
$399 up to $10k monthly spend
$599 up to $15k monthly spend
4% of ad spend after $15k monthly spend
Reviews
"Really helpful tool for Amazon sellers, Amazon PPC marketers and everyone who deals with Amazon paid ads. Saves much time and efforts on managing Amazon ad campaigns because enables auto and full control over their performance and optimization. User-friendly interface. Responsive customer support – always helped to sort out the issues that naturally occur."
"BidX facilitates some steps of PPC management. Campaign structures can, for example, be created on several marketplaces at the same time, which saves a lot of work. The core feature of BidX, the bid management, also works well and apart from 1-2 bugs, which have of course been fixed, I have nothing to complain about here."
Who should use BidX as their PPC software?
I'd mostly recommend BidX for European sellers, and sellers who want rule-based automation but can't afford more expensive tools like Pacvue and Skai.
5. Quartile
Quartile is a full-funnel advertising solution that not only automates Amazon ads, but also automates advertising on platforms like Facebook, Instagram, Youtube, Google, and many more. Quartile is known for holding 6 patents in machine learning, artificial intelligence, and bid optimization.
Features
AI and Rules – Due to popular demand, Quartile released its own rule-based platform called Versa, which works with the already existing AI software to help you automate your advertising. This means you can get the best of both worlds, full control over your ads when you need it, and 100% automated algorithms.
Semi-managed Service – Quartile is more involved than the other software companies in the management of your account. As soon as you sign up, you're assigned an account manager who'll be there to onboard you, set up your account, and answer all your questions over call or email.
Full Funnel Advertising – Since Quartile is a cross-channel platform, it can also be used to automate your Facebook and Google ads to drive additional traffic to your listings and grow your sales more.
Automatic Campaign Creation – If you use Quartile's campaign creator, it will start launching auto campaigns for each product then use the search terms from those auto campaigns to create new manual ones. The only issue is that each individual search term becomes its own separate campaign which means you can eventually end up with 5000+ campaigns.
Goal-Related Settings – Premade settings like 'product launch' or 'conservative' can help you optimize both your ads and the software towards achieving your goals without having to do much setup.
Pricing
Quartile requires sellers to sign up for long-term contracts which can last a year or longer. During the contract period, they can charge you anywhere from $895/month to $10k/month, depending on your ad spend, which makes them one of the most expensive PPC softwares.
Reviews
"Great AI-powered tool. It was able to quickly outperform other Amazon advertising tools, as well as full-service agencies. We've seen very positive ROAS on both PPC and DSP. You get full-service support from an account manager and a team behind them. You get regular calls where they go through all the updates on your account. That team is always working hard on new stuff."
"I've been working with Quartile for over a year. My account manager and his team and very responsive to requests, extremely professional and always prepared with insights on how to improve results. They executed a successful ad strategy in multiple marketplaces. Working with Quartile has been instrumental for our business' success."
Who should use Quartile as their PPC software?
Quartile has good rule-based automation, strong AI algorithms and a team of qualified Amazon experts, which makes them a good fit for almost anyone. Their main drawback is their excessively high fees and the long-term contracts they force you into, which make them difficult to work with for small businesses.
6. Skai
Similar to Quartile, Skai is another omnichannel ad automation platform. They're able to automate Amazon, Walmart, Pinterest, Facebook and almost 80 other ad channels from one platform using rule-based automation.
Features
Fit for Large Brands – Skai is best suited for sellers who spend millions of dollars per year on ads and advertise on more than just Amazon. Their platform, pricing, and customer success teams were primarily designed to handle this type of customer.
Rule-Based Automation – Sellers using Skai only have one option for automation, and it's rules. As mentioned previously, rules give you plenty of benefits, like control and customizability but can also be very time-consuming and difficult to set up.
Good For Experimentation – Using the testing tools they provide, you can run experiments to test different strategies and find out which ones work best.
Cross-Channel Advertising – With access to more than 80 advertising platforms, Skai is the most complete advertising automation tool when it comes to full-funnel marketing.
Pricing
While Skai isn't exactly public about how their pricing works, we can tell you that their entry plan is $800/month and that they start to charge a commission on ad spend once you cross $10k/month in spend.
Reviews
"Skai brings consistent analytical and bulk editing power to my workflow. This is especially useful since effort needs to be spread across many channels, each with a different interface and capabilities. By putting everything behind a single, powerful tool, Skai makes it possible to perform bulk changes and analyses quickly."
"I enjoy how simple the user interface is. Having all accounts and campaigns in one place is tremendously useful. The support team is also very helpful and also responds quickly."
Who should use Skai as their PPC software?
Skai is mostly used by large brands with a presence on multiple channels and a large ad budget. For 6-8 figure sellers who only need help with their PPC, I'd generally recommend a different tool.
7. Intentwise
Next up is Intentwise, a popular rule-based PPC automation tool that works with Instacart, Walmart, and Amazon. They're well known for their market analytics tool as well, with many sellers just using them for their dashboards and data.
Features
Competitor Analytics – Good decisions require good data, which is why a lot of sellers love Intentwise's competitor insights. Using Intentwise, you can get relevant, up-to-date information about how you're performing compared to everyone else and your position in the market, allowing you to inform leadership about progress and make fast decisions.
Recommendations Machine – Automatic, on-platform recommendations will help you with key advertising decisions such as transferring or duplicating keywords from one campaign to another and negating wasteful search terms.
Rules and Algorithms – Alongside the rule-based automation that Intentwise is known for, they also have the option of algorithmic automation, which requires less effort to set up and still gets good results.
Performance Analytics – As previously mentioned, Intentwise is famous for its dashboards, analytics, and data. The tools that they offer are super useful for sellers who have large, complex accounts that they need help auditing.
Pricing
The full details of Intentwise's pricing arent available online but the packages they offer are known to start from $500/month and have several ad spend-based tiers.
Reviews
"The team at Intentwise is easy to work with and has brought their expertise with Amazon advertising to our brand with quick and effective results. The team moves quickly and their reporting is easy to digest. We started working with Intentwise weeks before Prime Day and we were able to pivot to cover multiple goals in a short amount of time with strong results – something I don't think we could have achieved with another Amazon agency."
"The recommendation engine saves significant time and the ACOS optimization rules really help in getting campaigns performing. Above all the team go beyond the call of duty, where we think we have a real challenge on performance solutions are invariably found. We have worked with Intentwise for nearly 2 years and this level of attentiveness has been solid throughout."
Who should use Intentwise as their PPC software?
Intentwise's 2 standout features are its dashboard and data analytics, which make them ideal for sellers who want to be involved in every aspect of their account and analyze every change and make decisions based on that.
8. Ad Badger
Most of you reading this will be familiar with the PPC Den podcast, but what you might not be as familiar with is what the company behind it offers. Ad Badger, the company producing the PPC den podcast, offers its very own PPC software, as well as agency-style, managed service plans for Amazon sellers.
Features
Impressive Learning Resources – Sellers using Ad Badger will never have a shortage of useful content to learn from. That's because, in addition to the publicly available blog and podcast, Ad Badger customers also have access to an exclusive learning center that covers everything PPC.
Decent Bid Automation – While Ad Badger doesn't necessarily hold any patents or awards for innovation when it comes to bid automation, they've still got a decent platform that saves you enough time and gets the basics done.
Account Manager – One area where Ad Badger excels is its customer service. Right after you create an account with them, you get assigned to an account manager who'll onboard you onto the platform, answer all your questions, and provide you with a 30-day performance evaluation once you complete your first month with the platform.
Harvesting and Negation – Create your own custom keyword harvesting and negation rules to help you get the most out of your search term reports.
Keyword Research Tool – Ad Badger comes with its own on-platform keyword research tools that you can use to fill up your new and old campaigns with new targets to advertise on.
Pricing
The full details of their pricing are, again, not available but its known to start at $400/month and go up as you spend more on ads.
Reviews
"I'm having a great time working with ad badger. I started off with having them coach me 1on1 for my PPC and eventually, I moved over to their software. The coaching was informative and gave me a good foundation to understand Amazon PPC better. Every once in a while I wish the software loaded faster, but I'm always able to get my tasks completed"
"This is the best Amazon PPC software I have ever used. It's a perfect mixture of Auto and Manual PPC management. Bulk bidding tool is the most suitable feature for those who have bigger data to handle. Despite having some features missing, Ad Badger gets the job done for you in a very convenient way"
Who should use Ad Badger as their PPC software?
The main benefit of using Ad Badger is the human support you get. The software isn't necessarily special but the account managers, coaches and consulting sessions can be useful for people trying to learn to manage their ads themselves.
9. M19
Coming all the way from France, M19 is a software company that offers an AI-based PPC tool that automatically adjusts bids, tracks organic rank and creates new campaigns for you called 'strategies'. They're considered to be a very hands-off tool and don't offer any rules.
Features
Keyword and ASIN research tools – Users of M19 can easily find more keywords and ASIN targets using the numerous research tools the French PPC software has to offer. All you need to do is input a seed keyword/ASIN and the software will recommend similar ones for you to include in your campaigns.
Organic Tools – M19 lets you track your organic rank on your most important keywords and set up automatic bid adjustments to stop any PPC cannibalization from happening.
Simple Campaign Creator – One of the downsides of this French PPC tool is that it can't automate your old campaigns. It can only automate campaigns created through its platform, which they call strategies.
Hourly Day Parting – Using the M19 platform, you can get a complete view of your hourly performance and use the software to adjust your bids accordingly.
Automated AI Bidding – Similar to other platforms like Perpetua, M19 has its own hands-off bidding algorithms that take complete control of your campaigns from A-Z.
Pricing
M19's pricing is based on the number of 'strategies' you have set up with them.
Here are the details:
$400/month for 4 strategies
$400 + 3% for 10 strategies
Reviews
"M19 has saved me a lot of time in managing the PPC. They also allowed me to establish a long-term and sustainable strategy in the development of my Amazon store."
"One of the best PPC software ever used. Pretty intuitive on how to use the platform, simple and gets the results done. It does take about 2 weeks for the AI to learn the bidding structure but thats typical for most AI software that I've used. The more data or history your PPC account has the faster you'll get your target ACOS."
Who should use M19 as their PPC software?
M19 doesn't necessarily have any standout features that make it a must-have for a certain type of seller. Most users of M19 are just European or French.
10. Sellerapp
Sellerapp is an Indian tech company that built a 'swiss army knife tool' for Amazon sellers, similar to what Helium10 offers. One part of this tool is a rule-based PPC automation software that's similar to Adtomic.
Features
Customizable Rules – Enhance your advertising using Sellerapp's comprehensive list of customizable rules and use them to automate your PPC. You can also pick what time variables these rules are executed at, whether it's hourly, daily, or weekly.
Goal-based Settings – This feature is identical to the premade settings that Adtomic offers and they're also named Launch, Liquidate and Grow.
Day Parting – Automatically increase and decrease your bids according to hourly ACoS and CVR trends to get the highest return on your ad budget.
Bulk Actions – Using the bulk actions tool, sellers are able to make all types of changes to hundreds of campaigns at once, saving them time and helping them get results faster.
Pricing
Sellerapp is one of the cheapest options out there, their plans are all sub $100 and they don't charge a commission on ad spend.
$39/month up to $5k monthly spend
$49/month up to $20k monthly spend
Reviews
"SellerApp has a comprehensive suite of tools and features that have significantly enhanced my advertising campaigns, resulting in increased visibility, improved conversions, and ultimately, higher sales. It provides in-depth insights and data-driven recommendations to optimize my advertising campaigns and maximize ROI."
"We are a new Amazon seller and needed help with beginning PPC campaigns. Their team has been SO helpful with getting our campaign set up, providing product feedback, and responding quickly to questions. We have been with them for 4 months. I'm excited to see how much farther we get in the next year."
Who should use Sellerapp as their PPC software?
Sellerapp is a good option for sellers who don't need advanced AI or impressive tools and are mostly looking for low-cost software that can help them save 20% more time.
11. Adtomic
Adtomic is a safe choice for early-stage sellers who don't need expensive tools, plus, it runs on the Helium10 platform which is a big bonus. While Adtomic doesn't come with all the bells and whistles, it's considerably cheaper than most tools and gets the job done for a lot of small sellers.
Features
Pre-Made Settings – Adtomic comes with 3 settings that you can use to optimize your PPC: Launch, Grow and Liquidate. One for each stage of your product lifecycle.
Basic Bid Adjustments – While many sellers complain that the features and tools Adtomic provides for bid adjustments aren't that great, they still get the job done to a large degree and save sellers plenty of time.
Harvesting and Negation – Adtomic comes with the standard harvesting and negation features everyone else has.
Benefit From The Helium10 Ecosystem – Adtomic is the only PPC tool that co-exists on one platform with countless other useful tools, which is a unique and hard-to-beat benefit.
Pricing
Adtomic pricing is split into these categories:
$39/month starter
$99/month platinum
$279/month diamond
Reviews
"The staff at Helium 10 prioritize helping newbies figure out how to use their amazing tools. If you don't find the How-To video you need, you can use Chat to ask a quick question. They are always online, not just during certain hours, like some businesses."
"I highly recommend Helium 10 to anyone looking to succeed in the e-commerce industry. The platform is user-friendly, packed with powerful features, and backed by a knowledgeable and responsive customer support team. With Helium 10, you'll have everything you need to take your Amazon business to the next level."
Who should use Adtomic as their PPC software?
I'd generally recommend Adtomic to current users of Helium10 who are looking for a low-cost PPC tool to use.
12. Pacvue
This is actually the second time Helium10 makes an appearance on this list because as of early 2023, Pacvue and Helium10 are one company. The PPC tools they offer couldn't be more different though because Pacvue is an expensive, high-performance PPC tool used by large businesses while Adtomic is meant for small and medium sellers.
Features
Informative Analytics – Many sellers rely on Pacvue data when it comes to setting targets and making decisions, and the reason for that is they have a very strong set of analytics that cover everything from market share, market size, share of voice and share of shelf across multiple marketplaces.
Rule-Based and Algorithmic Automation – Because of some recent upgrades to their system, Pacvue is able to offer both rule-based and algorithm-based automation. It's worth considering though that Pacvue is mostly known for its rules and that its algorithms haven't been tested enough yet to get a good idea about how they perform.
More Than Just PPC – After their merger with Helium10, Pacvue released a set of features that allow you to manage your coupons, promotions, product page SEO, and ads all in one platform.
Automated Suggestions – Like an automated PPC expert, Pacvue gives its users suggestions to improve their business's performance. These can come in the form of ad spend distribution suggestions or tweaks that you can make to your account to win the Buy Box more often.
Pricing
It's no secret that Pacvue is expensive. Their entry-level tier starts at $500/month and as your ad spend grows they can even start charging you 3%of your total budget, which can be a 5-6 figure annual bill for larger sellers.
Reviews
"Pacvue saves time through the many automation possibilities and simultaneously reduces costs through campaign optimization. It works for the marketplaces I use for my job – Amazon, Wallmart, Target. It has a user-friendly interface and lots of tools you could use for your daily advertising."
"Pacvue is by far the best tool that we have used for Advertising. It has new features for building manual and auto campaigns and robust reporting for analysis. You can share the links of the reports to other people and the biggest thing now is AMC. It has built the AMC reporting with Pacvue which is an advanced Advertising data analysis and automation. It has Pacvue Academy where you can be certified on how to use the tool. User-friendly and A LOT of great features!"
Who should use Pacvue as their PPC software?
Pacvue is the number #1 choice for sellers looking for rule-based automation. They have the most comprehensive selection of rules, the best track record, and plenty of useful learning resources teaching you how to use the platform.
13. Sellozo
For number 13 we've got Sellozo. Sellozo is one of those tools that don't get much appreciation but they're still definitely worth considering. That's because with their in-house PPC experts, impressive campaign creator and the level of control they give you over your ads, they've definitely earned a spot on this list.
Features
Repricer – Sellozo is one of the only PPC softwares which also come with a repricer.This repricer automatically adjusts your product prices to get you higher sales, better performance, and more Buy Box wins.
Campaign Studio – The campaign studio is essentially a whiteboard for your Amazon ads. It allows you to map out all of your campaigns in one place and see how they all work together to drive your advertising strategy.
Expert Help – For an extra fee, you can call in the help of Sellozo-approved PPC experts to give you advice and guide you on what you should be doing for your Amazon ads.
Bulk Changes – The best way to describe this feature is that it's like using bulk operations without all the Excel sheets and exporting, allowing you to make hundreds of changes with even less effort.
Negation + Harvesting – This feature is just a traditional harvesting and negation tool, like the one offered by every other software on this list.
Pricing
Sellozo bases its pricing on the number of SKUs you sell, here's how it works:
$149/month 0-10 SKUs
$299/month 11-1000 SKUs
$399/month 1001+ SKUs
Reviews
"I have started out using the Sellezo software on my own and the customer service experience was very good from the initial onboarding all the way through to making changes to the back end of Amazon PPC on my own. My time became very limited and I learned of an account management version of the software where you had a one-on-one meeting weekly. And you get an expert within Sellozo to assist in managing the entire system."
"Sellozo has been our missing link! We had solid, mature, products with great product photos, etc. In the past, we've done everything in-house, including PPC. It has been one of our best decisions to onboard Sellozo with a managed account to help handle the Amazon PPC arm of our business. Not only has our ACOS lowered to a more manageable level, but our sales have exploded."
Who should use Sellozo as their PPC software?
Sellozo is a good all-round tool. They have both the ability to automate everything and to let users make manual changes at scale, they have a strong team of account managers and their prices are very reasonable.
14. PPC Entourage
PPC Entourage is an older PPC tool that used to be more popular back in the day. It isn't necessarily a full automation tool, but it provides certain features to help sellers make their manual work less time-consuming.
Features
Bulk Engine: Instead of regular rule-based or AI-based automation, PPC Entourage has what it calls a 'Bulk Engine'. This bulk engine is essentially an on-platform spreadsheet that allows you to filter through your campaigns, ad groups, and targets and apply changes to all of them at once.
P/L Calculator: Staying profitable with Amazon PPC can be difficult. That's why PPC Entourage offers an on-platform P/L tool that helps you calculate your margins and net profit after ads, taxes, returns and selling fees.
1-Year Guarantee: PPC Entourage is the only company that offers a 1-year money-back guarantee on its services. This makes using them almost risk-free, because if you don't get results you can get a refund.
Pricing
PPC Entourage charges a very high 2.9% commission on ad spend, which makes them one of the most expensive options on this list, especially for large sellers.
Reviews
"This software changed how we do PPC. We have over 1000 campaigns so there was a ton of day-to-day tasks that could add up and become overwhelming quick. PPC Entourage had allowed me to automate a majority of the day-to-day tasks involved in PPC using the smart pilot, and has given us great results."
"I have been using PPCE since for over 7 years now and have saved thousands of dollars in ad spend. What is important is the thousands of dollars made in sales by putting the right PPC ad in front of the right people searching for our product and not wasting money on irrelavent impressions."
Who should use PPC Entourage as their PPC software?
PPC Entourage is very expensive and does not come with the same features that most softwares do. That's why I mostly recommend it to sellers who want to be extremely involved in the day-to-day of running their PPC rather than allow full automation to handle the account.
15. Stackline
Stackline is an Amazon software company that offers a complete 'Ecommerce Operating System'. This system includes PPC automation, competitor and shopper analytics, review management and influencer marketing.
Features
Market Intelligence – Gather millions of data points on shoppers, competitors, and your category to inform decision-making and report to company leadership.
Multi-Platform Multi-Country – With Stackline, you can automate your ads across multiple online retailers in 13 different countries from a single dashboard.
Transparent Reporting – Truly understand the impact of your advertising with Stackline's incrementality reports which give you an understanding of the incremental sales and profits you drive on each product with every campaign you create.
Goal-Based Settings and Predictions – Set campaign-specific goals like increasing clicks or driving incremental profits and let the software do the rest. You can also see Stackline's prediction of each campaign's spend and sales before it's launched so you can plan ahead.
Pricing
Stackline mostly sells to enterprise brands, so the only time it fully reveals its pricing is when you're deep in the sales process with them. But, what we do know is that many of their sellers are being charged more than $10k per month for this service.
Reviews
"Stackline makes you feel like a secret agent spying on the competition. The data in stackline is some of the most accurate, insightful and actionable data I've seen on any platform and you don't have to be a data scientist to use it (Trust me, I'm far from). My team has pivoted projects, developed new products, and optimized our advertising performance thanks to the data in Stackline. We use it constantly to make strategic decisions, provide accurate reporting metrics, and monitor ad and SEO performance."
"Stackline offers me easy insights into our performance versus the market. Also specific ASIN development on Amazon allows us to showcase growth potential to our management. Very much fan as well of the insights in support budget spent. Always use in it our business updates to stakeholders."
Who should use Stackline as their PPC software?
Stackline is best suited for teams in large companies who need its in-depth reporting and forecasts to show to management during meetings.
16. Downstream Impact
Downstream Impact, a PPC software company recently acquired by Junglescout, is a strong campaign automation and market intelligence tool that's used by many companies like HP and Brooklinen.
Features
Market Intelligence – Track category revenue, product prices, market size, market share, and competitor performance.
Rule Automation – With many different rule variations to choose from, Downstream users can create their custom strategies and run their entire account automatically.
Keyword Insights – Find out how well you're performing on your most important keywords, how much search volume there actually is, and what percentage of impressions you're getting.
Pricing
Downstream charges on a per ASIN per seat basis with plans starting from $2500/month and a minimum 1-year contract being required.
Reviews
"Jungle Scout has been very helpful in solving client challenges and bringing new clarity into the category landscape and how we stack up against competitors"
"Great customer service and they listen to questions and feedback openly. The Cobalt team has provided Excel and Power BI templates to help analyze segments more easily. More infrastructure updates have gone live recently which continues to improve the data quality. Looking forward to seeing how the design team transforms the UI in the near future."
Who should use Downstream Impact as their PPC software?
Since its acquisition by Jungle Scout, Downstream has been rebranded as Cobalt and has become another high-priced Analytics focused software. So, similar to Stackline, I'd mostly recommend it to large teams who can afford to pay this much for software and need extensive data to report to management.
17. Zon Tools
If you're really on a tight budget, Zon Tools might be the exact tool you're looking for. With plans starting at just $9/month, Zon Tools is officially the cheapest PPC software out there and it packs a lot of value for its price.
Features
Campaign Creator –On their platform, you'll find a campaign creator, just like the one on Amazon, that lets you create standard, defensive, and offensive campaigns directly through the Zon Tools platform.
Budget-Friendly AI – Zon Tools is one of the cheapest options to go with if you're set on using AI to optimize your bids.
Placement Optimization – The vast majority of purchases happen on page 1. This is why sellers use Zon Tools to optimize their placement boosts and show their products in the positions where they'll get the most eyeballs.
Pricing
Zon Tools is one of the cheaper, if not the cheapest, Amazon PPC tools. They have three plans and here's how they work:
Analyzer – $9/month
Masterer – $19/month
Dominator – $25/month
Reviews
"I use it to run PPC campaigns for my clients, and I recommend it to EVERY person that asks. Not using it feels like wasting time+money, the results are much better and take much less effort than trying to do it myself."
"It's a great automated tool. The main thing is that a person using ZonTools for the 1st time needs to be patient because it takes a few days for the tool's algorithm to take effect."
Who should use Zon Tools as their PPC software?
While Zon Tools isn't the best or most advanced tool – it's the cheapest. So I'd recommend it for beginner sellers who can't afford pricey, feature-packed alternatives.
Conclusion – Which PPC Software Should You Go With
In this article, we've listed the best Amazon ad tools we could find and explained who we think should be using them. We've covered features, prices, and reviews for every single one of them to help inform your final decision- which at the end of the day, is completely up to you.
We do recommend, though, that you test out our own Amazon PPC tool, AiHello. Bias aside, AiHello offers the best campaign creation, bid automation and account managers in the market and our prices is much cheaper than any alternative that can offer similar capabilities.
If you'd like to speak to our Amazon ads team and learn more about the software, feel free to book a call using this link.