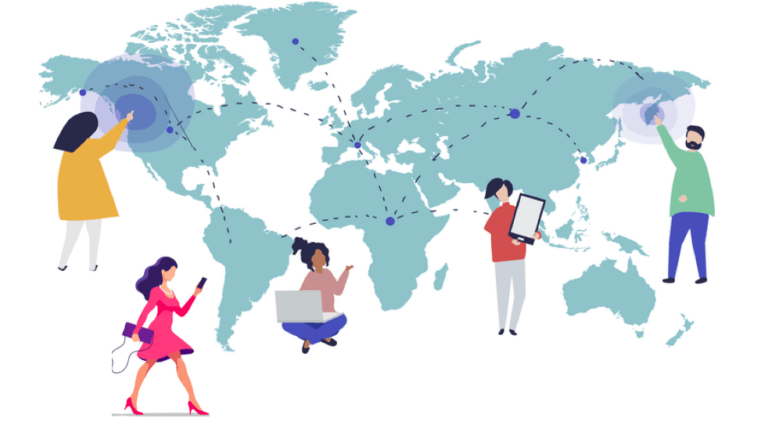 According to Oberlo, there are approximately 2.64 billion people who shop online worldwide.
Since Amazon is the biggest online store in the world, this means Amazon sellers can easily reach millions of people around the globe through Amazon marketplaces without leaving the comfort of their homes.
Exciting, right?
Unfortunately for many sellers, the dream of selling globally never becomes a reality because they do not understand how these marketplaces work.

They don't know how to identify which one is perfect for their brands so they start selling in the wrong place and struggle to make the kind of sales they desire.
In this article, you'll get the right information needed to take the guesswork out of "Where should you start selling?"
You'll see the pros and cons of each marketplace and the strategic insights you need to select the one(s) that is ideal for your brand.
Let's get right into it!
What is an Amazon Online Marketplace?
Amazon marketplaces are individual online platforms operated by Amazon in various countries and regions worldwide.
These marketplaces allow Amazon sellers to list their products for sale and reach a potentially vast customer base.
In short, they are platforms where you can share your product listings with a global audience.
Currently, Amazon operates 21 marketplaces worldwide. The complete list is offered on the Amazon Global Selling page:
Americas
United States

Brazil

Canada
Asia-Pacific
Australia

Japan

India

Singapore
Europe
Germany

Spain

France

Italy

Netherlands

Poland

Sweden

United Kingdom

Turkey
Middle East
United Arab Emirates

Egypt

Saudi Arabia
Which is the Best Marketplace for Amazon?
Selecting the "best" Amazon marketplace depends on various factors. Whether you're thinking of exploring remote fulfillment or marketplace expansion, it's best to weigh each marketplace's potential for your brand.
Here are a few aspects to consider as you research Amazon marketplaces:
Ready to increase your sales?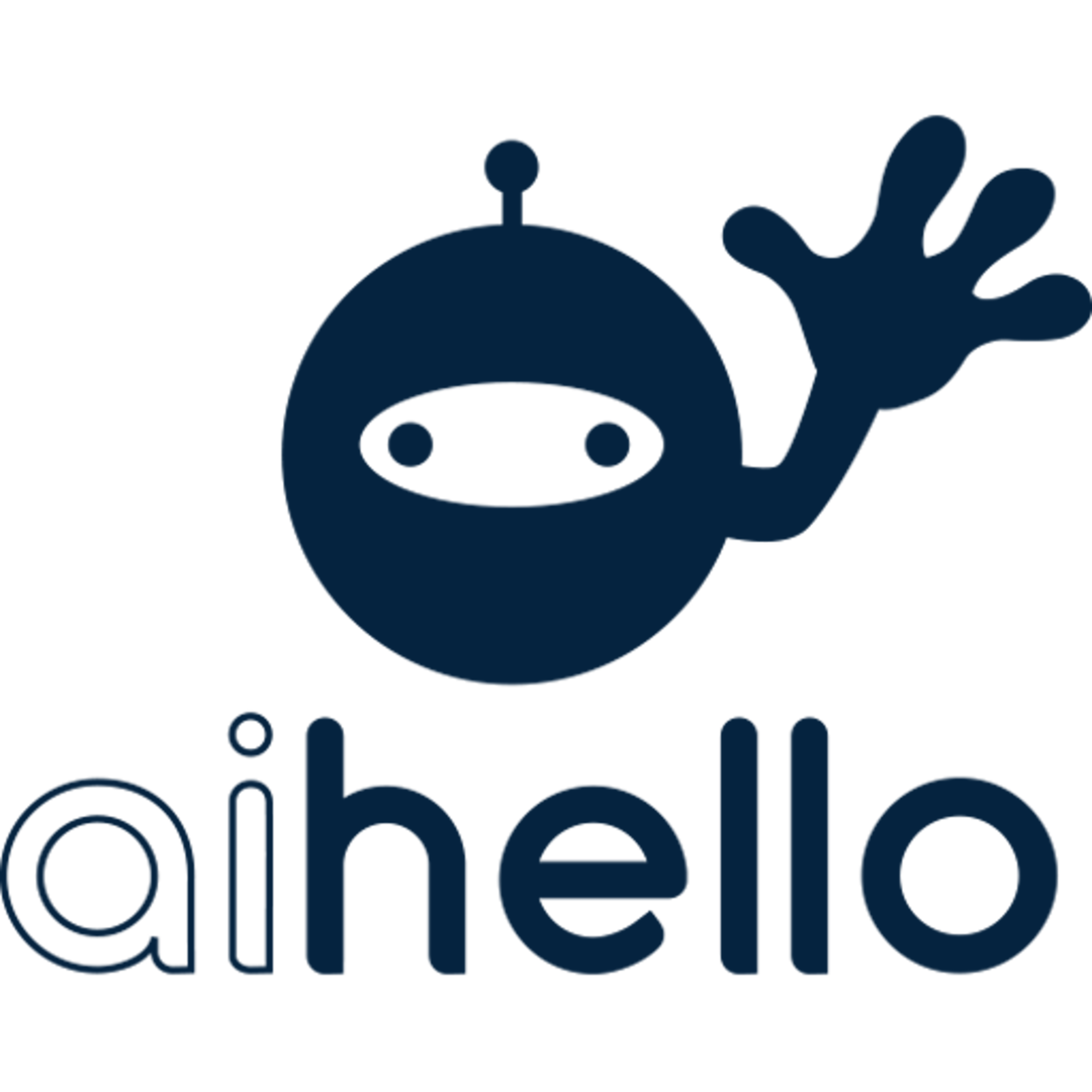 AiHello automates everything, from campaign creation, bidding, keyword addition or removal, and negation so you can grow your sales. We also have our own in-house team of PPC specialists, copywriters, catalog experts, and graphic designers to help you with all things Amazon.
1. Demand
One of the key drivers of sales success is demand – simply put, the interest and desire from buyers to purchase your product. Demand is one of the top factors to consider when choosing an Amazon international marketplace.
Think of it like this: if a specific marketplace attracts a higher number of visits, your product's visibility rate will increase. And guess what follows? More traffic and visibility translate to a greater likelihood of people buying and falling in love with your brand.
2. GDP PPP per capita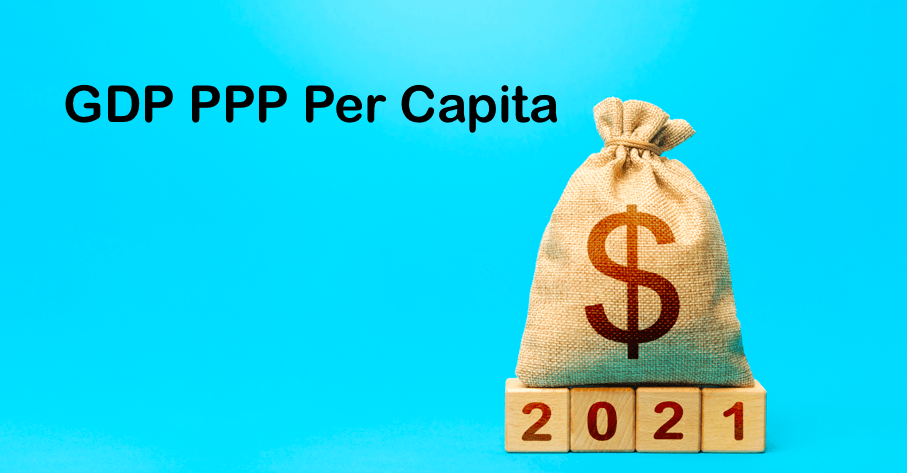 Let's dive into something called GDP PPP per capita. GDP stands for gross domestic product (basically a country's economic output), and PPP is all about purchasing power parity – a way of comparing the relative value of currencies.
So, when we talk about GDP PPP per capita, it's like putting a spotlight on the average earnings of a person in that country.
The more a person earns, the more they're likely to spend. This means you may want to focus on Amazon marketplaces with more capital to spare on your products.
3. Normalized Spending Power
Last but not least is Normalized Spending Power. This is like looking at spending capital with a pair of special glasses on.
Imagine the US as the benchmark, set at a cool 1.00.
This metric works like a scale between 0 and 1, with the US dollar being the 1.00 standard. Think of it as a way to put all the marketplaces on a level playing field, so sellers can size them up against Amazon US.
Here's a simple formula:
Normalized Demand = Traffic x Normalized Spending Power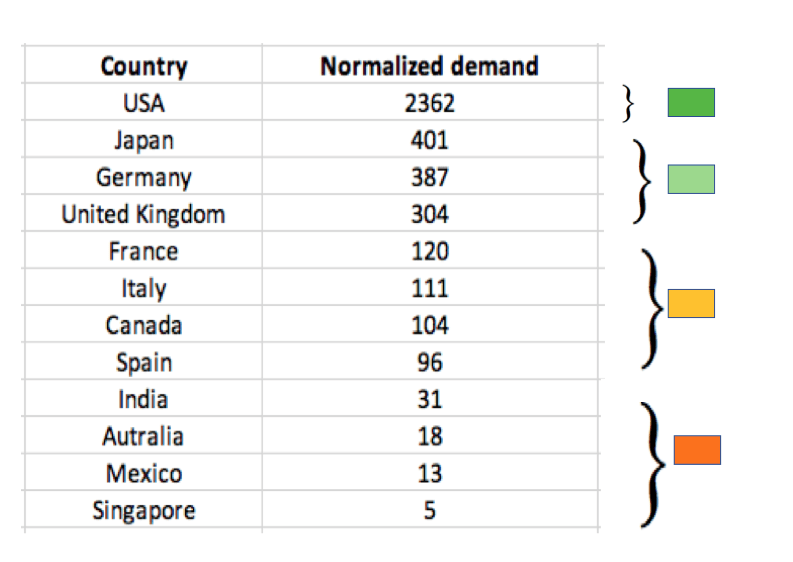 If a marketplace's Normalized Spending Power is close to 1.00, this means people in that country are more likely to make purchases. It's like having a code to successfully sell internationally.
Amazon Marketplaces | Pros and Cons
Whether you're exploring NARF or Amazon Global Selling, below are some of the biggest Amazon marketplaces you should consider.
1. Amazon.com (United States)
Amazon US is the most popular Amazon marketplace in terms of both traffic and seller participation. A survey says 77% of Amazon sellers sell in the Amazon US marketplace, and about 56% of them live in the US.
Pros:
Huge demand
Amazon FBA makes it easy to fulfill orders across all 50 states
Cons:
Highly competitive
Certain product categories might already be saturated with other sellers
2. Amazon.ca (Canada)
Canada is another very popular marketplace for Amazon sellers. In fact, it's second only to Amazon US in terms of traffic and seller participation.
This is mostly due to the fact that US sellers seeking e-commerce expansion through other Amazon markets may find that this marketplace is the most viable option, especially because the required investment in logistics or tools like Amazon PPC software is minimal.
Pros:
Easy to start selling from an Amazon US account
English-speaking audience
High exposure and low competition
Cons:
3. Amazon.co.uk (United Kingdom)
Amazon UK is the third most popular Amazon marketplace to sell in. About 43% of Amazon sellers in the UK marketplace are located in the UK. Plus, 13% are US-based, and 9% are from China.
Pros:
Cons:
Fairly competitive with many established sellers
4. Amazon.com.mx (Mexico)
Mexico is another bustling Amazon marketplace. In fact, Amazon is one of the top e-commerce platforms in Mexico.
Pros:
Easy to start selling from an Amazon US account
Low competition
Cons:
Non-English-speaking population
Unique shopping behaviors
5. Amazon.de (Germany)
If you're looking for a gateway to Europe and are willing to invest in translating your listings to a foreign language, Amazon Germany offers huge potential. In fact, Data from 2022 says Germany ranked second to the US in terms of Amazon's annual net sales by marketplace.
Pros:
Biggest European market
A large number of English speakers
Relatively less competition
Favorable tax conditions
Cons:
May need help from a German speaker
Sellers who are already selling in Amazon US and Amazon Canada and are looking to sell in the entire North American region can introduce their brand in this Amazon Marketplace.
6. Amazon.co.jp (Japan)
As per Amazon Global's Japan data, 7 out of 10 Japanese consumers engage in online shopping. The website also highlights that customers of Amazon's Japanese store have grown accustomed to the perks of speedy and convenient deliveries, making Amazon FBA a strategically sound choice for this market.
Pros:
Japanese customers tend to pay more for high-quality products
Less risk of "hijacking" of private label listings
Less competition + a large audience
Cons:
Non-English-speaking population
Unique shopping behaviors
7. Amazon.com.au (Australia)
Amazon Australia has had a broad mix of sellers from different countries since its launch in 2017. Around 16% of sellers are from the US, 25% are from China, and 19% are from Australia.
Pros:
Fresh marketplace opportunity
English-speaking population
Consumers pay high mark-ups on goods
Proximity to Asian suppliers
Cons:
Small population
Difficult geography for logistics
8. Amazon.in (India)
According to July 2023 Amazon marketplace list traffic data, India brought 118.9M visitors to Amazon's websites, only bested by the US. At the same time, India has one of the lowest seller counts among any marketplace which signals a potential opportunity.
Pros:
Huge traffic
A large English-speaking population
Cons:
Choosing an Amazon marketplace
Given the list of Amazon marketplaces with the best metrics, which one should you choose?
Based on the factors given above, attempting to rank Amazon Marketplaces according to the demand and traffic will give us this table, with traffic quantified in millions per month: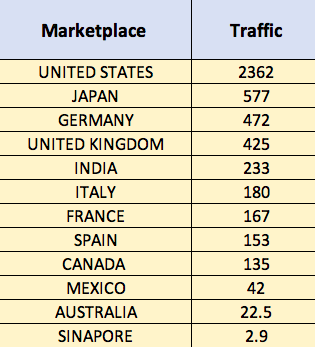 Traffic is crucial – after all, selling products without an audience wouldn't be a favorable scenario.
However, is traffic alone a metric good enough to choose a marketplace?
Not really.
Traffic by itself doesn't guarantee sales. For this reason, it's also crucial to rank the Amazon Marketplaces in terms of GDP PPP Per Capita: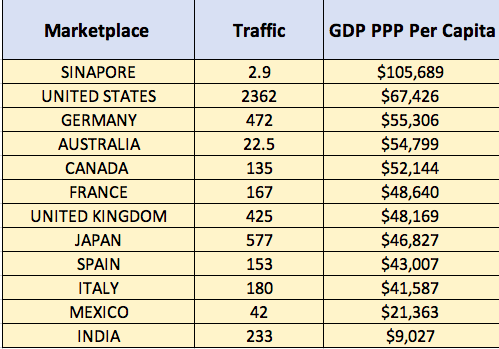 Here, Singapore has the highest GDP PPP Per Capita, while India, despite its huge traffic, doesn't seem like a good option to consider in terms of GDP PPP Per Capita.
By setting the US as the benchmark at 1, we've standardized the GDP PPP Per Capita figures for all Amazon marketplaces, enabling an apples-to-apples comparison.
Now, factoring in both traffic and the Normalized Spending Power, we're poised to calculate the Normalized Demand using the formula previously mentioned.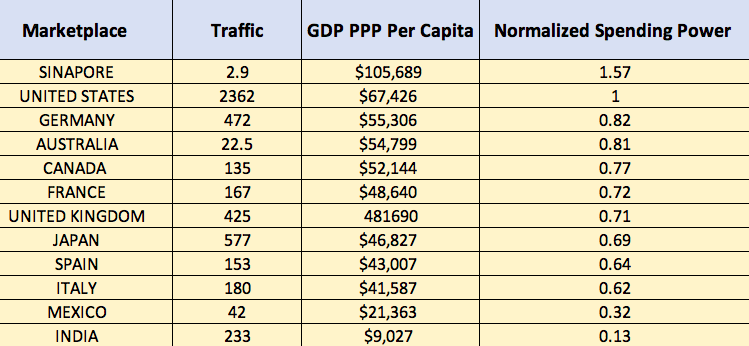 The next step is to rank the marketplaces from best to worst depending on the Normalized Demand and GDP PPP per capita.

Based on the calculations, you can now categorize Amazon marketplaces into tiers:
Tier 1: Amazon US
Tier 2: Amazon Japan, Amazon Germany, Amazon UK
Tier 3: Amazon France, Amazon Italy, Amazon Canada, Amazon Spain
Tier 4: Amazon India, Amazon Australia, Amazon Mexico, Amazon Singapore
The Bottom Line
When choosing an Amazon marketplace, it's quite evident that selling in Amazon US can be a highly lucrative move. This is due to its substantial traffic, strong earning potential, and favorable spending power.
Selling in the UK also holds promise, given the absence of language barriers.
Japan is also a good choice, though language differences pose a challenge.
Ultimately, the best marketplace for you depends on your products, target audience, and business strategy. While some marketplaces might offer greater traffic, others could provide more niche opportunities.